STEM Education Builds Green
Sustainability, technology, and community may seem like an unusual combination, but Key Tech Labs cofounder Adam Power envisions a future where these integrated elements create a self-sustaining system. STEM Education Builds Green.
"Our traditional paths and methods separate these things but nothing in life is separate," he said. "We all exist together in an ecosystem, whether it be the planet, here in King County, or in the state of Washington. The traditional business model breaks these things up into their own value streams, but technology is not separate from the planet or from us."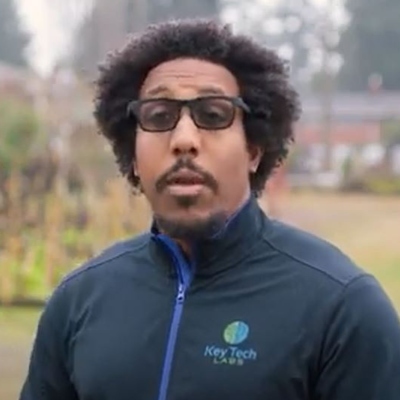 Powers and his twin brother Andrew founded Key Tech Labs in 2015 based on that idea that everything is interconnected. They sought to bring emerging technology to underrepresented areas and to help create self-sustainable communities.
Powers' own upbringing inspired him to start Key Tech Labs. He and his brothers were homeschooled through fifth grade by their mother, an educator for 25 years. Their homeschool education exposed them to science, math, technology, and math, as well as real-world aspects of Seattle like the library and the zoo. He later realized this experience, along with a family who supported his exploration of coding and technology, is typically not a part of the public school system curriculum. He wanted to bring that experience to his community and give future generations the same opportunity he had.
Today Key Tech is a mobile education lab that brings the technology of the future to communities that don't normally have access. Students learn computer programming, build technical solutions for everyday problems, and help their communities.
Community partnerships
In 2018, Key Tech received funding through the Port's Airport Community Ecology (ACE) Fund, to teach Des Moines students to power a robot (called a FarmBot) to plant and cultivate a variety of crops in a community garden. Since then, Key Tech has received funding to continue its green education and technology efforts through the Port's South King County Community Impact Fund Environmental Grants Program, which supports projects by community led groups to improve the local environment in communities around SEA Airport.
"In a capitalist society you need capital investment and funding to make things move," Powers said. "None of the things we're doing could happen without the initial investment. Getting to a net zero society will only come with investment from entities with financial capital to not only make an impact themselves, but to support others making an impact."
Most recently, Key Tech Labs partnered with other Environmental Grant recipients Weed Warriors and New Start Community Garden (also known as "the Shark Garden") to infuse technology and green education into a community garden space in Burien. Together they created an outdoor learning space to build and implement green technology and make the garden self-sustainable.
"It is about showing the community a place right in their own neighborhood where they can come learn about things like sustainability, renewable energy, and technology," Powers said. "We are working with communities where there are food deserts and food injustice. An urban garden is crucial to create a place to grow and maintain heathy food options, and serve as a hub and green space within the community."
Growing technology
Key Tech has created and integrated many technological components into the Shark Garden (named for its decorative gate).
The technology below helps grow the 2,000-3,000 pounds of produce that Shark Garden donates to food banks every year. It creates the hands-on learning opportunities that fuels its mission.
An automated greenhouse: The structure uses software programs to heat and cool the water and air in different zones. The greenhouse is crucial for learning about green construction, takes into account the environment; to heat itself and grow plants
Farmbot: The agricultural robot is a hands-on tool for teaching robotics and can weed, water, and seed the garden. The robot will even send a text when it's time to harvest!
Solar power: The Garden, Farmbot and greenhouse, are self-sustainable and powered by solar energy, by a microgrid, by Sphere Solar Energy
Air-to-water generator: This creates clean drinking water out of the air!
The Shark Garden showcased its green technology and projects and connected job seekers with green companies and opportunities last summer at the Burien Solar Punk festival, a one-day experience of entertainment, community, environment, and technology.  Visitors can download the Shark Garden app and browse 20 plaques for a self-guided tour about the history and components.
A green tomorrow
The green technology creates opportunities for hands on learning that help sustain the garden. They teach youth valuable skills for a green future, including classes on robotics, solar energy, green houses, and augmented reality.
"We're building the green work force of future. We're teaching STEM in a practical way that affects our world economically, culturally, and sustainably," Powers said. "We do a lot of problem solving; that's the heart of Key Tech. There are solutions already out there. Urban gardens exist; solar panels exist; air-to-water generation exists and we can make it the standard of healthy drinking water. We want to have technology change the world in a way we love to see it, where we are driven by environmental and cultural values."
Engaging youth in green technology now is critical for the future of our world, Powers said.
"If we're putting a bunch of money into plans for green infrastructure of the future, who is going to do the work? Tradespeople are retiring and there has been no historical push for next generation of workers for the infrastructure of the next stage of America."
Key Tech is making these investments. Teaching youth about renewable energy, science, technology, engineering, and math (STEM) and, adding reading and art into the mix.
"Having well-rounded individuals is beneficial for society and the future world. If we don't have those investments there is no future world," he said. "This is about starting to build the pipeline of STEM and a green workforce. We are not just bringing education and exposure to the community, but a real opportunity for economic growth."
https://www.techedmagazine.com/category/news/stem/
Source: STEM Education Builds Green
https://www.portseattle.org/blog/stem-education-builds-green-tomorrow