SpaceGrant To STEM Careers
NC Space Grant has a long-standing partnership with the North Carolina Community College System — collaborations largely facilitated by Matt Meyer, the system's associate vice president for economic development.
Meyer actively connects community college STEM programs across the state with NC Space Grant, for example, through the Community College Research Pathways and High-Altitude Ballooning programs.
"Matt has a passion for student engagement and has proactively expanded the number of colleges participating in our programs through on-the-ground outreach and by securing additional grants," says Jobi Cook, associate director of NC Space Grant. "He has brought greater visibility to NC Space Grant's programs and shed light on STEM research going on at our local community colleges."
With 30 NC community colleges currently participating in programs and expansion on the horizon, Meyer speaks to the pertinence of continuous outreach and its broader implications.
"It's important to the state, on a real high level, for economic mobility. For our state to continue to thrive, we need to make sure we have a workforce that is well trained and well versed in science, technology, engineering, mathematics," notes Meyer, a member of the NC Space Grant Advisory Board.
Cultivating Connections
This collaborative effort began years ago when the system president selected Meyer to be the system's affiliate director for Space Grant in the state. That assignment set the stage for connections and opportunities for students and faculty.
"I learned our colleges wanted to be more involved with the activities going on with the Space Grant, so it was a good fit," Meyer recalls.
When the NC Community College Research Pathways and High Altitude Ballooning Challenge programs were developed, the goal was to provide skills and competencies typical classroom instruction does not offer and to build the portfolios of students who participate.
Putting this vision into action entailed Meyer directly recruiting colleges. Most colleges responded favorably, as they were already starting to implement STEM research and activities.
"A few colleges were already involved in undergraduate student research. We had some faculty who were go-getters and offered that opportunity to their students," he says.
"When we saw that from a system office perspective, we are like: Wow, we need to do more of that. And the NC Space grant gave us that opportunity."
Statewide Impacts 
Campus partners involved with NC Space Grant programs recognize how student participation in STEM experiences supplements their professional proficiencies.
"Student-faculty research experiences have been transformational for many and have allowed our students to gain confidence in the research process. Programs such as the NC Space Grant demonstrate that students are capable of making meaningful contributions even at the undergraduate level," says Nickolas Davros, who is on the faculty at South Piedmont Community College (SPCC).
Rebecca Stamilio-Ehret, an instructor at Edgecombe Community College (ECC), speaks to how these programs impact students both professionally and personally.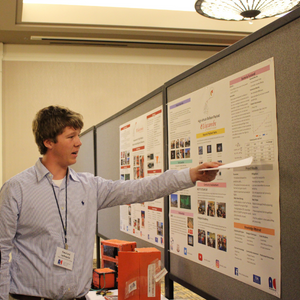 "Besides the obvious impact on students' understanding of science and engineering from our high-altitude balloon project, we have found the biggest impact has been on their personal growth. We have seen great improvement with students in their teamwork, communication, public speaking, confidence, and problem-solving," Stamilio-Ehret notes.
"As advisors, we agree that the science is fascinating but the growth our students have in these crucial life skills areas are the most impressive aspects of this project," she adds.
Programmatic Success
In the Research Pathways program, Meyer has identified colleges with active STEM faculty. Because mentorship is an additional time commitment at community colleges, faculty directly approach students with these research opportunities. From there, students and faculty identify a research topic to explore. Students play an integral role in driving the project.
"The students express their creativity and innovation. We have been able to give students the opportunity to express their genius."  Meyer notes.
A promising project aimed at novel antibiotic discovery and a study assessing mold damage on buildings post-hurricane are among recent research projects that impress Meyer.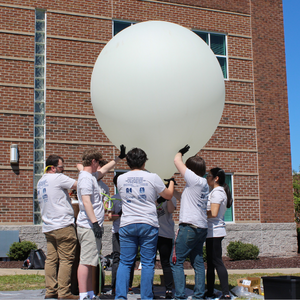 The High Altitude Ballooning challenge allowed more colleges to get involved. Every year, 8 to 10 community college teams build a payload and launch a high-altitude balloon, which takes images from the edge of space.
"I don't think I've seen a team that had everything perfect. They come in there and a battery's not working, or a wire broke and they've got to troubleshoot it. They've got to work together. So it's a lot of teamwork, communication, and problem-solving." says Meyer.
This program returned on-site for the first time earlier this year to the excitement of all teams involved.
Some community college students go on to 4-year institutions. Others complete these programs and ultimately start careers at NASA and other industry giants. Regarding program components that prepare students for the STEM workforce, Meyer cites key transferable skills.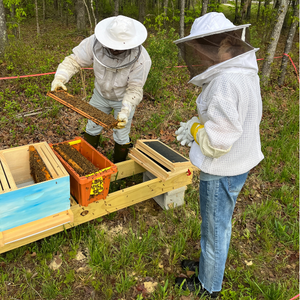 "Without a doubt, it's the problem-solving, critical thinking, and team-building. By providing students this opportunity through undergraduate research, or high altitude ballooning, they're gaining those skills," says Meyer.
Davros agrees. "Students at South Piedmont Community College are empowered and inspired to do undergraduate research that matters and makes a difference to them and their community. South Piedmont student researchers have taken ownership of the creative process and invested their time, thanks in large part to the financial support of NC Space Grant."
Future Directions
Meyer is taking the initiative to encourage the participation of diverse student populations that are historically excluded or underserved. He also looks forward to collaborating with Wake Technical Community College on a large grant received from the National Science Foundation (NSF) to expand its START program.
"I'm excited about this coming year, and how we're going to work with Wake Tech's grant. They have  many students involved in undergraduate research, and one of their goals is to work with other colleges. So there's a connection around what we're doing with Space Grant and what they're doing."  Meyer explains.
Community colleges involved in STEM research and teamwork opportunities from NC Space Grant and NASA is the ultimate goal.
"I think it's important that eventually, we get to the point where all 58 community colleges have participated in something. Whether it's one of the student scholarships, the high-altitude ballooning, or undergraduate research. I'm not there yet, but we need to have all 58 involved at some point in the future."