Passion for Manufacturing
A career path in manufacturing can take some twists and turns as young people decide upon their areas of interest and learn about new opportunities. For many, a visit to the Smartforce Student Summit at IMTS is an eye-opening and impactful step along that journey. Passion for Manufacturing.
As students at Penn High School in Mishawaka, Indiana, Ehren Mroczek and Conrad Adams were deeply inspired by their first visits to IMTS. The large high-tech machinery, 3D printing, robot demonstrations, and conversations with eager design engineers in the booths cemented their passion in becoming engineers. But unlike the thousands of young people at IMTS, Mroczek and Adams weren't just attendees, they also staffed the Penn High School FIRST Robotics team exhibit at the Summit. Today, they are design engineers who look back on their experiences at IMTS as a valuable step in choosing their education to career pathways.
The Smartforce Student Summit at IMTS is a special area of the show just for students, educators, administrators, and parent chaperones to engage with technology. High-profile industry exhibitors like Autodesk, Boston Dynamics, DN Solutions, Fanuc America, Festo Didactic, Haas Automation, Mastercam, Universal Robots, Zeiss, and many others to highlight the latest manufacturing technology and provide engaging, fun, and hands-on challenges for students. At IMTS 2022, nearly 12,000 students and educators visited the Student Summit. You can see videos of activities at the Student Summit here.
Students Mentoring Students
In 2012, the Smartforce Development team at  AMT – The Association For Manufacturing Technology  became aware of Penn High School's FIRST Robotics Team 135 and was impressed by their many activities, including a Mission to Engineer program to construct assistive technology for people with disabilities. AMT invited Team 135 to exhibit in the Student Summit. Team coach Jim Langfeldt (since retired) leaped at the chance. At every IMTS since, Team 135 has hosted its own exhibit.
These students are given the chance to show off their competition robot and explain how it was designed and made to fellow students and interested industry professionals alike.
The student-to-student mentoring concept is a very powerful way to reach younger audiences. Older high school students are engaging younger students to inspire them to seek the same pathway.
The Student Summit at IMTS 2014 hosted both a keynote address by Dean Kamen, founder of FIRST Robotics, and an area for a field of play for FIRST teams to show off student team robots. The field was expanded at IMTS 2016, and a Student Mentor Lab area was added at IMTS 2018.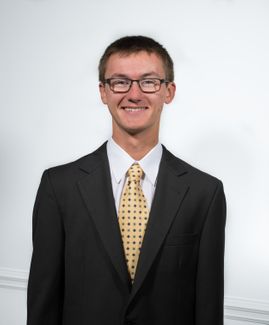 Conrad's Path to Manufacturing
Adams' spark for manufacturing was lit in grade school.
"I've wanted to be an engineer ever since I was eight," Adams says. "The robotics team at the high school had a young kids summer camp program for design, electronics, manufacturing, and robotics. I did those programs starting in third grade, and I immediately knew I didn't want to be a firefighter anymore."
As a high school senior, he was chosen to be part of the group staffing the Penn High School booth at IMTS 2016. Stepping into McCormick Place for the first time, he was impressed by the size of the machines and the show itself.
"My high school had a pretty big shop with lathes and mills, but to see the scale of the CNC machines was impressive," Adams says. "We immediately went to all the CNC machines just to see how huge they were and to see all the tool changers. It was stunning. We walked around looking at them for a long time."
Pairs of students staffed the Penn High School booth and were rotated out with others every couple hours. The adult team coach checked with them, but the booth interactions were strictly for the students to manage.
When Adams wasn't staffing the booth, he was roaming the show floor. In addition to the machinery, the enthusiastic people were really surprising for Adams.
Excited to Share
"Even though we were high schoolers, the people at IMTS were willing to answer our questions," Adams says. "They were excited to tell us about the tolerances that they could get down to, the precision of the machines, and how cool the applications are. They were there to show off what they'd spent a lot of effort doing and that they're proud of it. It was a really nice experience for us."
While working on a degree in mechanical engineering at Purdue, Adams returned to attend IMTS 2018 with a group of classmates and marvel at the newest technology. Now as a hydraulic engineer at Morbark, a manufacturer of forestry equipment, Adams can relate to that pride and enthusiasm he'd witnessed.
Adams reflects on his time at IMTS as impactful on his career path. Speaking to engineers on the show floor helped him imagine what his future could be.
"IMTS was definitely a good experience because I got to hear what the industry was doing straight from the experts," he says. "We got to see what they do and talk to them. Really, IMTS was like an 'easy button.' They were all right there – we just needed to talk to them."
Ehren's Path to Manufacturing
After high school, Mroczek went straight to Kettering University with a double major in mechanical and electrical engineering. As part of the on-the-job training portion of the program, Mroczek is currently a design engineer in the Advanced Development Department at Brose North America, an automotive parts manufacturer.
Experiences in FIRST Robotics solidified his interest in designing mechanical systems coupled with electrical components.
"It just clicked," Mroczek says. "I had a lot of exposure to different levels of robots at that time and it felt like the right way to go. I was comfortable with the kind of work I was doing on the teams. The desire to solve these problems was what I wanted to do as a real job."
First Reaction
"It was just so big – booths, people, and machines everywhere," Mroczek says. "I saw a Fanuc robot move a whole car around, and I saw a large 3D printer making a car. I'd read about these technologies and processes they were using, so it was cool to actually see it in person."
Attendees recognized Penn High School's success and wanted to learn more about how they could achieve the same. Mroczek and his team talked with students and teachers who were looking to start or adapt robotics programs. Also, Mroczek interacted with a lot of younger children, showing them how to operate the robot to stack crates.
"The little kids were wild about moving things," Mroczek says. "I'd ask them if they wanted to help make the robot move and their eyes were wide as dinner plates. It was fun to get other people excited about what we're passionate about."
During his time away from the booth, he spent time on the show floor looking at subtractive technologies showcased there, such as wire EDM machining and mills. Of particular interest was a demonstration of a CNC mill with a five-axis welding torch. At the time, it was one of the only additive manufacturing processes on the market.
"Being able to see all of that technology at IMTS was invaluable, and it just reinforced my desire to do that kind of stuff and make it part of my future," Mroczek says.
His advice for other students interested in robots and machines is to visit IMTS 2024.
"It's the full gamut—everything from micro manufacturing to manufacturing massive components, from human assembly to robotic assembly. It encompasses everything," Mroczek says. "Plus, the people there are passionate about their technology or field of work, and they're there to talk to you and answer your questions. They want to show off their work as much as you want to see it. That's a unique experience that you don't get anywhere else."
The next Smartforce Student Summit will have even more exhibitors and activities to inspire young people to seek manufacturing careers. Set your calendar to attend IMTS 2024, September 9-14, 2024, in Chicago at McCormick Place.
Source: Passion for Manufacturing
https://www.imts.com/read/article-details/IMTS-Student-Summit-Ignites-a-Passion-for-Manufacturing/1777/type/Read/1/tab/all-articles?page=1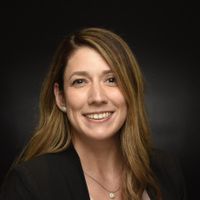 Catherine Ross
Director of Education, Smartforce Development
Catherine Ross is an advocate for career-tech education and the future of work. She has directed quality accreditation programs, organized national STEM events and student competitions. Also served as liaison and manager for federal workforce initiatives.
The Smartforce Student Summit launched 25 years ago. Since then, over 80,000 students, educators, and families from all backgrounds and education levels have registered. So naturally, Greg Jones and I are bringing it back in 2024… bigger and better than ever. Stay tuned!