A focus on science, technology, engineering, and mathematics (STEM) is indispensable for the long-term benefit of humanity. Global industries are rapidly advancing, and improved participation and diversity in STEM promise a more efficient, happier, healthier, and safer future. High schools can instill and nurture a life-long love of various sciences, mathematics, and humanities, especially those that are dedicated to STEM.
We've put together a list of some institutions that are among the best STEM schools in the nation that go above and beyond fostering STEM knowledge and appreciation. Covering the major STEM subjects and states, this list weighs factors like proficiency in math and reading, the performance of underserved students, college readiness, and graduation rates.
What Makes a High School a Top STEM School?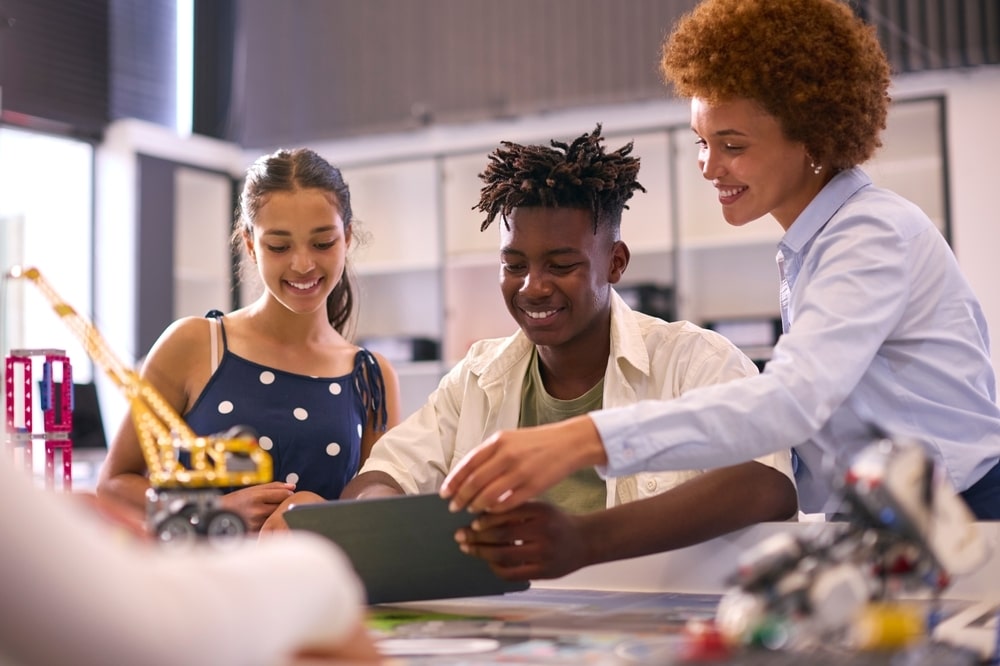 The characteristics of a top STEM high school include a challenging curriculum taught by specialists in the fields of science, technology, engineering, and mathematics as well as modern laboratories and other cutting-edge facilities for involving students and researchers in real-world projects. Robotics and coding clubs are also available as extracurricular activities to enhance classroom instruction.
Additionally, collaborations with businesses and academic organizations allow for real-world application and networking. These are the key features of STEM-focused schools that generate an environment conducive to STEM study and prepare high school students for successful employment.
Best Stem High Schools USA
The following institutions are renowned for their brilliance in proliferating new generations of scientists, mathematicians, entrepreneurs, and world-shakers:
1. The Academy for Mathematics, Science & Engineering—New Jersey
520 W Main St, Rockaway, NJ 07866 | mhrd.org
New Jersey's Academy for Mathematics, Science, and Engineering is an entry point for the state's next generation of ground-breaking thinkers and it matches all the criteria for evaluating STEM programs.
This engineering magnet school has a comprehensive four-year program aiming for careers primarily in engineering. The curriculum is academically rigorous, complemented by technical internships in collaboration with business and industry stakeholders. Students engage in coursework both within the Academy's premises and at Morris Hills High School.
Tuition fees: Public school
Extracurricular STEM Activities: Technology Student Association, Astronomy Club, Environmental Action Club, Economics Club, Mathematics Honor Society, Math Club, and Science Honors Society
2. Thomas Jefferson High School for Science and Technology—Virginia
6560 Braddock Rd, Alexandria, VA 22312 | tjhsst.fcps.edu
The best school in the Washington, D.C., area is the Thomas Jefferson High School for Science and Technology (TJHSST) in Alexandria, Virginia. U.S. News ranked it as the fourth overall best high school in the U.S. in 2021.
It's a top-5 STEM school with an incredible breadth of topics, including quantum physics, energy systems, and astrophysics. TJHSST also publishes its own science and math journal, Teknos. These curricula are strengthened in the school's 15 various research labs dedicated to earth sciences and more.
Tuition fees: From $29,100
Extracurricular STEM Activities: A variety of STEM activities, including Future Problem Solving, Assistive Technology Club, Automotive Engineering Club, Bioengineering Projects for the Future, Biotechnology Club, Computer Teams, Computer Security, CyberPatriot Training Club, Electronics Club, Forensic Science Society, and ICE – Innovations in Concepts of Engineering
3. The Nueva School—California
131 E. 28th Ave. San Mateo, CA 94403 | nuevaschool.org
The Nueva School in California recognizes the interconnected nature of the global landscape and designs curricula that resonate on an international scale while creating links between various academic subjects.
Tasks in these science courses focus on genuine, real-world issues and are formatted in a flexible manner to encourage student creativity and the inclusion of their individual passions. With a teaching team that collaborates with Stanford experts on extracurriculars like robotics and coding, the school attracts top STEM students and is rightly considered one of the best STEM schools in the country.
Acceptance rate: 20% – 50%
Tuition fees: From $57,980
Extracurricular STEM Activities: Egg Dropping Club, Future Problem Solving, LiMPETs, Model Aviation, Nueva Math Club, NuevaHacks Leadership Team, Redwood Forestry, and Robotics Team
4. BASIS Independent Silicon Valley—California
1290 Parkmoor Ave, San Jose, CA 95126 | siliconvalley.basisindependent.com
The emphasis on teachers having specialized knowledge in their multiple stem courses is a distinguishing feature of the BASIS Curriculum. As a result, all high school subjects are taught by Subject Expert Teachers (SETs), who are educators with professional expertise or advanced academic credentials in the disciplines they teach.
The school's all-encompassing approach to STEM education prepares students for great career paths, as seen by the results year after year. Additionally, the holistic approach to students' life in order to build well-rounded learners, while assisting them in recognizing their own passions, includes activities such as debate and theater, as well as participation in robotics and the National Honor Society.
Tuition fees: From $35,70
Extracurricular STEM Activities: 70 extracurricular activities in total, including Artificial Intelligence Club, Chemistry Olympiad, Competitive Computer Science Club, Robotics, Math, and Science Club.
5. The Harker School—California
4525 Union Ave, San Jose, CA 95124 | harker.org
The Computational Lab, featuring high-performance computing clusters for sophisticated machine learning and data science research, sets the Harker School apart. Modern chemistry and biology facilities in the Science and Technology Center also allow students to conduct university-level experiments.
The California Harker School is a STEM powerhouse that produced Google's AI team leader Dr. Michael Chen. With Ph.D.-qualified staff, cutting-edge research facilities, and Silicon Valley tech collaborations, Harker provides a STEM education that goes beyond textbooks to prepare students for transformative careers.
Acceptance rate: 20%
Graduation stats: 100%
Tuition fees: From $60,500
Extracurricular STEM Activities: Chemistry Club, Clean Technology Club, Junior Engineering Technical Society, Math Competitions Group, Medical Club, Programming Competition Club, Research Club, Robotics, WiSTEM (Women in STEM)
6. High Technology High School—New Jersey
765 Newman Springs Rd, Lincroft, NJ 07738 | hths.mcvsd.org
High Technology High School (HTHS) in Lincroft, New Jersey, occupies the spot for the second best in the U.S.A. and offers a ratio of 13 students per teacher, facilitating personalized learning. It does exceptionally in the college readiness index rank and graduation rank, scoring third nationwide for STEM high schools.
This school emphasizes the parent-student axis, with a vibrant Parent Faculty Association featuring various social and fundraising events. Academically, HTHS offers an engineering focus with curricula including digital electronics and computer-integrated processes.
Information
Tuition fees: Public school
Extracurricular STEM Activities: Math League, Experimental Research Group, Robotics & Coding Club, Science Club, STEMinist Club, Technology Student Association
7. Phillips Exeter Academy—New Hampshire
20 Main St, Exeter, NH 03833 | exeter.edu
Phillips Exeter Academy, which is currently the number one best STEM highschool in New Hampshire – according to Niche– is a distinguished boarding school known for its Harkness teaching method, which promotes student-led conversation and research.
While it is not solely a STEM institution, its Math, Science, and Computer Science departments provide a solid curriculum that includes courses in complex topics such as multivariable calculus and quantum physics. The Phelps Science Center, a cutting-edge facility with contemporary labs and research areas, is housed inside the school.
Information
Acceptance rate: 10%
Tuition fees: From $61,121
Extracurricular STEM Activities: More than 100 clubs, including Astronomy, Biology, Chemistry, Economics, Geometry, Math, Physics, Robotics, and Science Bowl.
8. Phillips Academy Andover—Massachusetts
180 Main Street, Andover, MA 01810 | andover.edu
The best private high school in Massachusetts in 2024 and best for STEM in its state, according to Niche, Phillips Academy Andover was founded in Andover, Massachusetts, in 1778.
It welcomes almost 1,200 students from nearly 50 countries, with a 5:1 student-teacher ratio, offering an equally diverse selection of curricula, including more than 300 courses and more than 150 electives to inspire creativity and strengthen the socio-cultural bonds that forecast collegiate success.
Information
Tuition fees: From $53,950
Extracurricular STEM Activities: App Development, Astronomy, Physics, Computer Science Club, Cyber Security and Forensics, Finance, and Modern Engineering Forum
9. BASIS Scottsdale—Arizona
10400 N 128th St, Scottsdale, AZ 85259 | enrollbasis.com/scottsdale
The BASIS STEM School in Scottsdale, Arizona, has been a part of the prestigious BASIS Charter School network since 1998. The school routinely places near the top of state and national rankings of educational excellence.
Beginning in the middle school years, students at BASIS Scottsdale can enroll in rigorous math and science-focused Advanced Placement (AP) courses. BASIS Scottsdale offers a focused curriculum designed to encourage students for early college admission.
Information
Tuition fees: Public school/ tuition-free
Extracurricular STEM Activities: Astronomy Club, Bio Olympiad, Brain Bee, Code Ninjas, Girls in Computer Science, LEGO Robotics Club, Mathcounts, Mu Alpha Theta Math Honor Society, Physics Olympiad, Science Bowl, and Science Fair
10. Middlesex County Academy for Science, Mathematics, & Engineering Technologies—New Jersey
100 Technology Dr, Edison, NJ 08837 | mcmsnj.net/edison
Middlesex County Academy of Science, Mathematics, and Engineering Technologies is a public magnet high school in New Jersey that places an emphasis on science, technology, engineering, and mathematics (STEM) education.
The academy offers a variety of programs in fields such as civil and mechanical engineering, electronics and computer engineering, and the applied sciences. The school's internship and project-based learning programs frequently partner with local businesses as part of a curriculum designed to provide students with practical technical skills.
Information
Extracurricular STEM Activities: Computer Science Club, Math League, Robotics Club, and Science League
STEM is the Vanguard of Innovation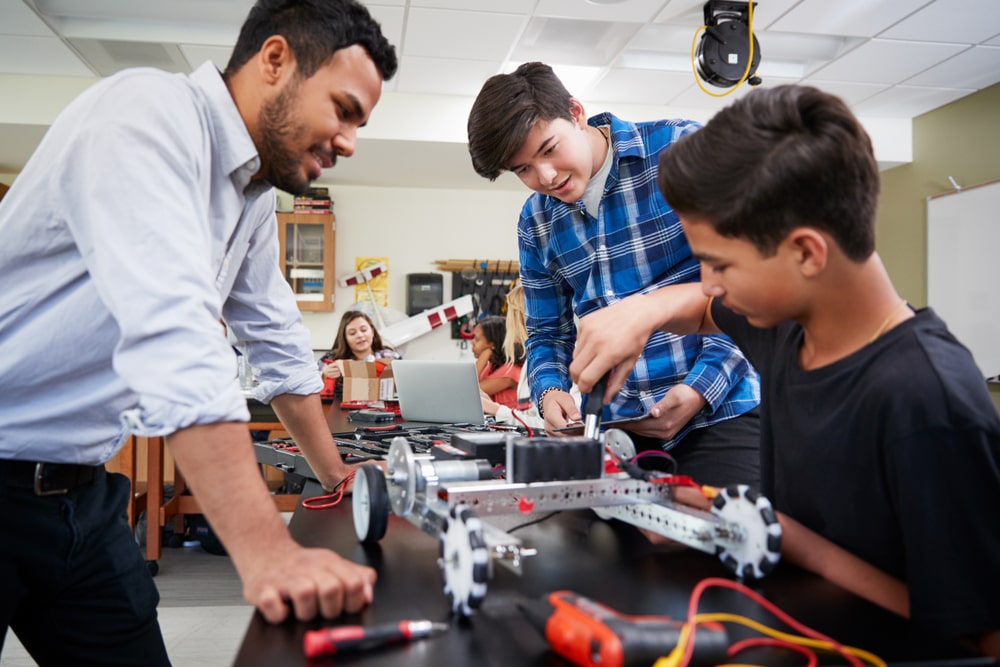 With improved participation and renewed vigor, STEM majors will hopefully lead industry into a new era of prosperity, peace, and compassion—all hallmarks of the scientific mindset.
Science, technology, engineering, and mathematics (STEM) are, without a doubt, the backbone of the modern creative process. Its influence is far-reaching, helping to propel developments in medicine, energy, computers, and many other areas.
Fostering a culture of innovation and critical thinking, STEM education provides students with the analytical tools and scientific literacy as well as transferable problem-solving skills that may be applied to any field.
Schools, such as the Whitney High School and Debakey High School, put resources into STEM education and prepare students to keep moving forward and remaining competitive in the global market.
Source: Top STEM High Schools
https://www.techedmagazine.com/category/news-by-industry/stem/
https://www.thomasnet.com/insights/best-stem-high-schools/