Preparing Students for Careers in Manufacturing Through Partnership With Local Company
Through the Machining Technologies program at South Puget Sound Community College (SPSCC), the next generation of machinists prepare for careers in a range of in-demand industries, from medical technology and automotive to aviation and aerospace. And over the past decade, the SPSCC Machining Technologies program has seen growth in its facilities, its community connections and in its class size. Originally operating out of a local high school, the SPSCC Machining Technologies program is now housed in a dedicated space at the SPSCC Lacey Campus.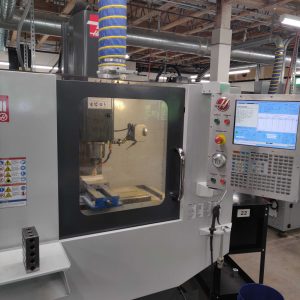 At the core of the Machining Technologies program at SPSCC, students learn how to create various components out of metal. With a state-of-the-art facility, students work with real-world equipment and tools to simulate projects that they might complete in a range of employment settings. The design, fitting, testing, and production process has wide reaching applications in manufacturing parts for airplanes, boats, trains, or medical supplies.
"Machining is more of a subtractive process," explains Chad Bacon, professor of machining technologies at SPSCC. "So, we take a block of metal and carve it into the shape we're after, whether that's something that's artistic or something that's mechanical. That's completely up to the student, and for whatever project we're doing at the time. Machining is best known for Boeing and making airplanes. But it doesn't really stop there. It trickles down to the markets and different kinds of applications. Anywhere there's mechanics or machinery, you're going to find machinists and that's essentially what we are training for, is being a machinist."
As part of a well-rounded education, the SPSCC Machining Technologies program provides students the opportunity to gain real world experience while also preparing students for possible career paths after graduation. And a portion of this real-world experience is through a partnership with the local company, Trxstle. As students receive assignments to manufacture certain parts for Trxstle, they are also building a foundation for their future careers.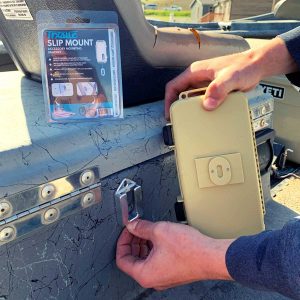 "I think this partnership is extremely valuable," says Bacon. "Students get to go from an idea to a finished product. Not only in the manufacturing process, but they get to see behind the scenes. Like, how much do the materials cost? What kind of tools and labor are required? What would that cost be? So, they get to see the whole picture. Having that knowledge when moving into the workforce, I think, is very beneficial for them to know the big picture, and see what the owners and the managers are doing to better assist them."
With offices in both Olympia and Helena, Trxstle creates outdoor products, including accessories for fly fishing and mountain biking, as well as technical apparel for outdoor environments. When SPSCC President, Timothy Stokes, reached out to Trxstle to inquire about a potential partnership, Trxstle's Co-founder and Chief Operating Officer, Morgan Misek, saw it as an opportunity for students to gain hands on experience while also allowing Trxstle to test potential new products.
"We just started the partnership this year," explains Misek. "It will benefit SPSCC both financially and by giving students real world products to work on that let them connect not just a product they're making, but they can see that they made this part and now it's on Trxstle's website. That was absolutely cool to see that connection that the students got out of it."
The partnership between the SPSCC Machining Technologies program and Trxstle is part of a broader effort to prepare students for the workforce. Over the past few years, Bacon and fellow SPSCC instructors have invited input from the region's manufacturing companies, with the intention of creating a curriculum that reflects a skillset that is needed within the industry. This input from local manufacturers inspired the creation of six new courses in the program, including a course on 3D printing.
"In the past, we've been subtractive manufacturing," says Bacon. "With the addition of 3D printing, we can now call ourselves subtractive manufacturing and additive manufacturing. We're going to use these 3D printers for multiple purposes. One big one that I'm after is the rapid prototyping. The 3D printing is going to now allow us to draw that part on the computer, and the next day be able to hold it. And if there's any fitness, function, or testing purposes that need to happen, making this out of plastic in this rapid prototyping model will save a lot of time, resources, and money."
Replicating the college's partnership with Trxstle, Bacon hopes to collaborate with additional companies in the future. Through their partnership, Trxstle is also interested in working with SPSCC to create partnerships with additional companies, in hopes that the Machining Technologies program can continue to grow and thrive. By producing parts for real-world businesses, students will have the chance to gain incomparable experience while still in a classroom setting.
"I'd like to ramp up to additional partnerships and use their parts for curriculum learning purposes," says Bacon. "Especially in a couple particular classes that I offer here at SPSCC. To enrich students' experiences throughout the program, and bring in that missing piece. Before our partnership with Trxstle, we were learning theory. Well, now I can say this is how it is in the industry, because we are actually doing it."
To learn more about the partnership between the SPSCC Machining Technologies and Trxstle, visit the Trxstle website. To learn more about the Machining Technologies program at SPSCC, visit the South Puget Sound Community College website.
Source: The SPSCC Machining Technologies Program Is Preparing Students for Careers in Manufacturing Through Partnership With Local Company, Trxstle – ThurstonTalk