Energy Educators of the Year
Oregon Middle School teachers Chris Mitchell and Nathan Mahr are making it their mission for students to learn the importance of energy in their lives.
To that end they tout an "energy is everything" philosophy, which is reflected in the yearlong eighth-grade science curriculum they collaboratively developed.
They recently were recognized for their efforts by being named Energy Educators of the Year for 2021 by the Wisconsin K-12 Energy Education Program and Alliant Energy.
"Nate and Chris keep energy at the center of their instruction," said Shannon Anderson, the middle school's principal. "Whether it is through learning the benefits of native plants, designing more powerful wind turbines in a lab, or analyzing our building's energy usage in relationship to our school's solar panels, they make it clear to our students that "energy is everything.'"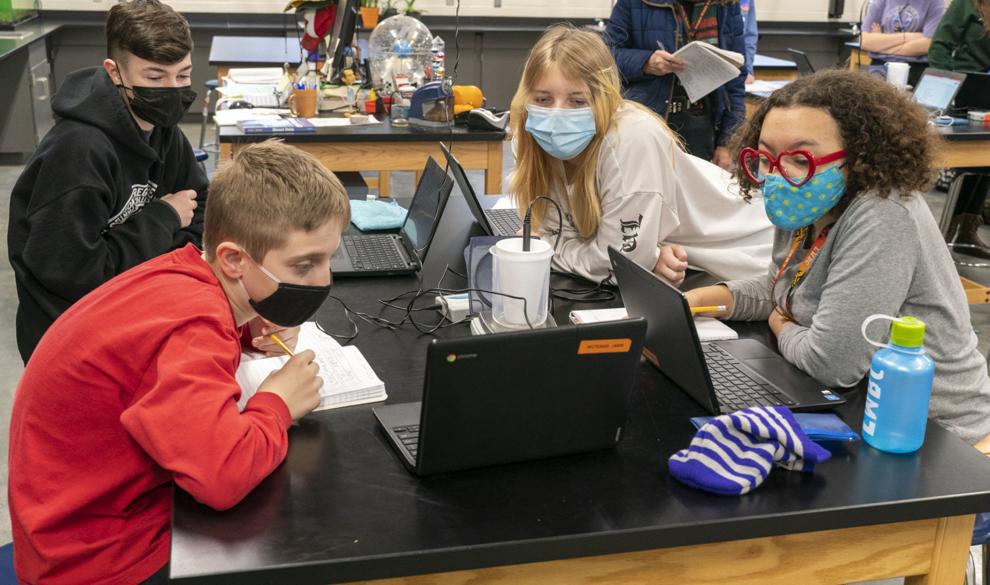 Eighth-grader Toby Peterson said he loves learning about the way energy works.
"The class is really about learning how the world around us works that we never really thought about," said Peterson, who is in Mitchell's classroom. "(Having) a decent knowledge of science you can never go wrong. You see the world differently and it can help you later in life."
Mahr and Mitchell's student-centered curriculum features direct instruction, collaborative partnerships and hands-on learning experiences. Units include energy transfer, energy usage and alternative energy, but energy considerations touch every unit throughout the year. English and social studies skills are integrated as part of this interdisciplinary approach to science.
"As we deepen our understanding of topics such as light, force and motion, electromagnetism, and climate change, we naturally weave in energy topics that allow our students to see connections," Mitchell said.
Energy makes everything in the universe change and students need to understand energy to understand all of the other topics in science, Mahr said. Energy is the unifying concept that ties everything together, he said.
Eighth-grader Rebekah Cooper, who is in Mahr's classroom, said she likes her teacher and the experiments done in the class.
"It has made me a little more interested in science," she said.
The two teachers have classrooms that are next door to each other, which allows them to bounce ideas off one another whenever needed, Mitchell said.
Mitchell and Mahr pride themselves on the fact that students in both classrooms get an equitable experience, Mitchell said. They also have found that conquering and dividing tasks after proper collaboration allows them to deliver higher quality instruction, said Mitchell while noting that collaboration is a complete team effort with colleagues and administration both at the middle school and between district schools.
Andrea Fuller, instructional coach at the middle school, nominated Mahr and Mitchell.
"Nate Mahr and Chris Mitchell are an amazing team. Each brings their own strengths to the partnership," Fuller said.
The school building's energy systems have been useful for teaching about energy. Students observe how much energy is being used and how much renewable energy is generated through the school's energy monitoring and tracking interface. In receiving the award, Mahr and Mitchell were recognized for highlighting the on-site solar photovoltaic array and geothermal system so that students engage in "relevant, place-based learning experiences and career explorations."
"We are actively participating in solutions and our students realize that a solution is possible and that they are part of it and have the power to produce positive change," Mahr said.
The pair also were recognized for teaching students how to be a scientist and inspiring future leaders for environmental action. Mitchell said one of the primary goals is helping students appreciate that learning is a process of growth. The teachers also hope that the learning experiences they create for their students will allow them to see real world connections and possible career paths.
Elijah Heric, an eighth-grader in Mahr's classroom, said he has been inspired to consider a science career in particle acceleration, which occurs when a machine uses electromagnetic fields to propel charged particles to very high speeds and energies. He also has appreciated the numerous hands-on activities in the classroom.
Mahr has also spearheaded many energy-saving building projects during his 30-year middle school teaching career in collaboration with other building and district staff, including Andy Weiland, district business manager. As a result of Mahr's leadership, the middle school generates 40 percent of its energy from on-site renewable sources, including geothermal and solar photovoltaic and saves energy because of other efficiency practices such as daylighting, or using windows to bring light indoors.
Mitchell and Mahr also mentor the Oregon Middle School Green Team on local issues such as clean energy and ecosystem restoration and educate fellow students, staff and the community.
Since 2003, the middle school students have partnered with the Oregon Rotary Club to support a native prairie habitat restoration at Lerner Park by removing invasive honeysuckle brush, building and maintaining gravel trails and planting nearly 2,000 native plants, which are now raised in the school's greenhouse by students and staff.
Mahr and Mitchell were formally recognized at the Wisconsin Association for Environmental Education Celebration of Excellence Awards Ceremony last month and received a $1,000 award, which they will use for some environmental initiative in the district.
SOURCE: ANDY MANIS, FOR THE STATE JOURNAL
https://madison.com/wsj/news/local/education/local_schools/energy-is-everything-to-oregon-middle-school-energy-educators-of-the-year/article_f30fa3f9-4dc4-5d68-9679-9be1cda369fc.html