Developing Women in Manufacturing
Hands-on, High-Tech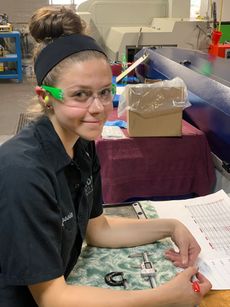 From an early age, Cassie knew she wanted a hands-on career. It wasn't until high school that she finally heard about career options that appealed to her.
"For most of middle school, they pushed college. I never heard about technical school," she says. "Once the counselors started talking about technical school, I started getting more curious and thought that would be a good fit for me."
Now a state apprentice machinist at JTD Enterprises, Cassie is in her last year of her journeyman program. "I think women should be encouraged to take tech classes in high school — to do what interests them," Cassie says. "We also need to change perceptions. We need to show women that they won't be judged for going into fields that are male dominated."
Last, But Best Choice
Ashley Brockman, robotic system engineer, Acieta, Council Bluffs, Iowa
Manufacturing was not Ashley Brockman's first career choice. Or second. Or third. She didn't know it existed. But it was her best.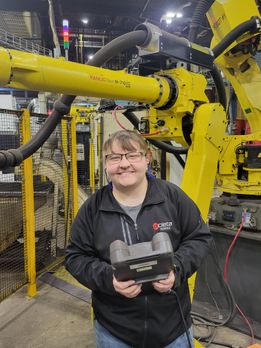 "I started majors in accounting, math, motorsports, fishery and wildlife, and emergency medicine," she recalls. "I have enough credits for a master's degree but none of them add up to anything."
That's when her father, a director at a vocational education center, went to a conference and learned about robotics programs. Ashley found a program less than an hour from home and graduated with a degree in robotics, automation, and mechatronics technology from North Dakota State College of Science (NDSCS) in Wahpeton, North Dakota.
Before graduating, she began an internship with Acieta, an industrial automation leader. She now works full-time, on-site in a large industrial equipment manufacturing facility integrating, programming, servicing and maintaining 99 FANUC robots. Recently, Ashley became the first female at Acieta to achieve the FANUC master certification.
Ashley's only regret? All those partial degrees. "If I had known this was an option, I would have done this right out of high school," she says. "We need to do a better job in local high schools or even middle schools of exposing everybody, especially girls, to careers like this. Let them know how cool this is and how fun it can be. Awareness at an early age is key."
Short-term Becomes Lifelong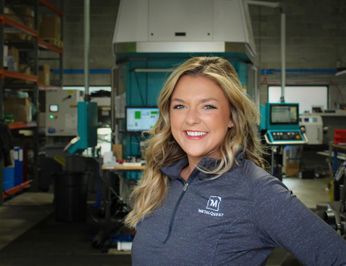 Ashley Harms, Marketing & HR Manager, MetalQuest Unlimited, Inc., Hayden, Idaho and Hebron, Nebraska
When your dad owns a machine shop, you learn to use a CNC machine — early! Ashley Harms did. And she enjoyed it, but she also viewed it as a short-term summer gig — a stop on the road to where she was going — a career as a copywriter. When what she thought was her dream job fell through, she took her dad's offer to open a new shop in Idaho.
"I am so glad now that I didn't get that job. This is way better," Ashley says. "I never saw manufacturing as a lifelong career, but this opportunity to open a new shop has made me fall in love with manufacturing."
Ashley believes more women would pursue manufacturing careers if they knew that most shops are small, family-owned and welcoming environments. "We have to spread knowledge that there is so much that women can do in this field," she says.
Born to Build
Rebecca Kurfess, Ph.D. candidate in mechanical engineering at Massachusetts Institute of Technology and research staff member at Oak Ridge National Laboratory, Oak Ridge, Tennessee 
"It's genetic," says Rebecca of her career path. Her father, Dr. Tom Kurfess is a mechanical engineering professor at Georgia Tech. Her mother, Adriana Kurfess, is also a mechanical engineer who taught middle and high school math and science.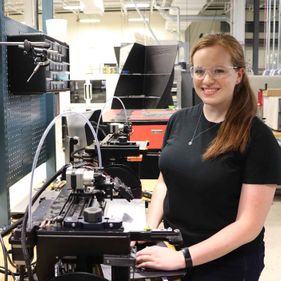 While Rebecca was exposed early and often to potential careers in engineering and manufacturing, she recognizes that is not always the case. "I think the shortage of women in manufacturing is a pipeline issue for sure," she says. "It is more difficult and more stressful to go into a field if you don't see people who look like you."
The lack of representation is intensified at the higher levels of the field. For instance, Rebecca immediately noticed that in her grad school classes there are far fewer women.
"At MIT, in undergrad, the ratio of male to female was 50/50, so it was a great opportunity to grow as an engineer and a woman — to feel comfortable that you weren't alone and you didn't have to feel pressure,"  Rebecca recalls. "When I walked into my first graduate class, I was wondering where all the girls went."
Rebecca notes that seeing other female researchers at her level is encouraging, and that she believes the next generation of women are more aware of their opportunities — meaning change is coming!
Printing for Healthcare
Sarah Rimini, MEng RT(R)(MR)(ARRT), senior manager, RICOH 3D for Healthcare AM Center of Excellence, Exton, Pennsylvania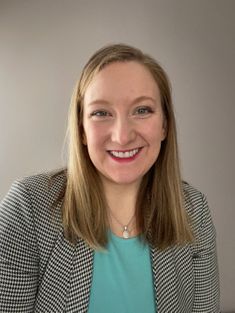 Sarah's route into manufacturing was anything but straight. She came to additive manufacturing (AM) via medical imaging. After starting her career as an MRI technologist, Sarah moved into a 3D-imaging lab and then began 3D printing anatomical models for training, pre-surgical planning, and simulation. This inspired her to learn more about 3D printing and eventually to pursue her master's of engineering degree in additive manufacturing and design through Penn State.
After graduating, Sarah joined RICOH 3D for Healthcare and is the senior manager of the company's first AM Center of Excellence for Healthcare. "Putting 3D models in the hands of surgeons is incredibly beneficial to them and their patients," Sarah explains. "These technologies can improve patient outcomes — and potentially save lives."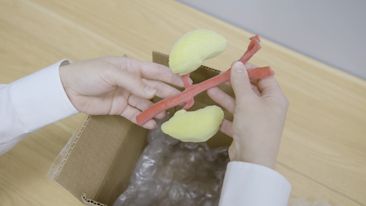 In both the medical and manufacturing fields, Sarah has experienced stereotypes and bias. "People think these are men's industries, but that just isn't the case," she says. "In the past, I had to be the loudest in the room to be heard, but that is changing as the generations change and the people in leadership become more supportive and inclusive. We have to continue to address these inequalities — even the subconscious ones — until they don't exist."
Learn more about how IMTS is striving to expand the role of women in manufacturing through our Women Make Manufacturing Move specialty program. 
https://www.techedmagazine.com/category/news-by-industry/manufacturing-education/
https://www.imts.com/read/article-details/Moving-On-and-Moving-Up/1728/type/Read/1/tab/all-articles?page=1